Kia EV6 For Sale in Elmhurst
New Kia Electric Car at Napleton's Kia of Elmhurst
    The Kia EV6 is the latest electric vehicle (EV) for the Kia brand, but one that starts as a clean slate. It's an exciting, daring look at what EVs can be, but the EV6 is also a chance at a rebirth for this groundbreaking South Korean automaker. And as good as it looks from the outside, it's clear that its beauty goes deeper than that! Exciting buyers in Elmhurst, Villa Park, York Center, Bensenville, Addison, and the Chicagoland area, the EV6 comes with your choice of batteries. The EV6 batteries range from a 58.0-kWh battery with an EPA range of 232 miles to a 77.4kWh high-density lithium-ion battery for an EPA-estimated range of 310 miles. Independent tests have even seen this combination achieving ranges of 339 miles on a single charge.
    The EV6 is now available for delivery at
Napleton's Kia of Elmhurst
. The first Kia electric car to use the new Electric-Global Modular Platform (E-GMP), it is available with either e-RWD or e-AWD powertrains.
If you're interested in a FREE test-drive of the Kia EV6, simply submit the form below to get more Kia info and schedule your FREE test-drive.
Kia EV6 Fast 800V Electric Vehicle Charging
    The new Kia EV6 is loaded with the latest technology to make your EV experience electrifying. The EV6 includes the world's first 800-volt multi-charging architecture. This advanced system provides speedy DC charging with the ability to charge up to 80-percent in just 18 minutes! That's time enough to head into your local gas station/sandwich emporium to buy a sub and an iced latte! 
Napleton's Kia of Elmhurst also offers Kia EV6 incentives, so don't miss out on all the savings!
Elmhurst Kia Dealership EV6 FAQs
   Choosing the right Kia EV6 for you can be a little tricky with several different trims, including the EV6 Light (RWD), Wind (RWD), Wind (AWD), GT-Line (RWD), and GT-Line (e-AWD). Luckily, Napleton's Kia Dealership in Elmhurst has gladly been serving Addison, Berwyn, Carol Stream, Chicago, Glendale Heights, Lombard Kia customers, and more! We pride ourselves on being a reliable Kia Dealer. If you have anymore Kia or EV6 questions, simply
submit the form above
or
Contact Us
and one of our specialists will help you.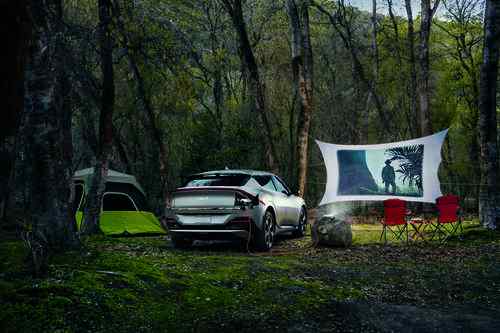 What is the Kia EV6? Is the EV6 a SUV?
    Think of the EV6 as a Hatchback on the largish size, rather than an SUV. It's even about as large as the Kia Telluride, but it rides lower, giving it a longer appearance. There are plenty of other reasons to choose the new EV6 at Kia of Elmhurst. One is style. Sharp looks and sleek lines hint at the future of Kia EV design. 
    This new Kia is available in several trim levels. The entry-level model is the rear-drive EV6 "Light." Next up is the rear-drive EV6 "Wind." The EV6 "Wind e-AWD" follows with all-weather traction via Kia's electric All-Wheel Drive system. The EV6 "Wind e-AWD with the Technology Package" also includes AWD but is loaded with additional entertainment, safety and driving technology. Finally, there's the EV6 "GT-line, for those seeking a sportier version.
Kia has Four Electric Powertrains to Power the New EV6 For Sale:
A 167 horsepower electric motor-generator powers the EV6 "Light" with RWD. Fueled by a 58 kWh battery, it has an EPA mileage range of 232 miles.
A second electric motor-generator powers the EV6 "Wind" and GT-Line RWD models. This motor gets energy from a 77.4 kWh battery. It makes 225 horsepower and has an EPA mileage range of 310 miles.
Two electric motor-generators power the EV6 "Wind" and "GT-Line e-AWD" vehicles. Energized by a 77.4 kWh battery, this powertrain delivers 320 horsepower, with an EPA mileage range of 274 miles.
The extremely fast EV6 GT e-AWD model gets power from two electric motor-generators. Their energy is delivered by a 77.4 kWh battery which helps the motors make an incredible 576 horsepower. The EV6 GT e-AWD has an EPA range of 200 miles.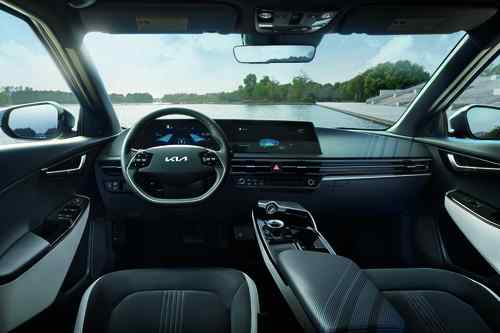 Kia Electric Car Interior
    The EV6 isn't just about speed. The interior of this electric car is one of the most spacious on the road today. It rides on a skateboard-style platform with no driveshaft or exhaust system. The wheelbase is as long as the Kia Telluride and passenger space is very generous. The EV6 also has great cargo capacity, thanks to the great design. There is 28-cubic feet of cargo space behind the rear seat. Fold that forward and the space grows to 54-cubic feet. Built as a Kia EV from the ground up, the EV6 is a full-on electric vehicle. Unlike other manufacturers, Kia did not start with a gas-powered vehicle that had the engine removed and an electric motor put in its place. Instead, Kia designed the EV6 to be as efficient and aerodynamic as possible.

More about the new EV6
    The new Kia EV6 joins other Kia models, including the
Kia Soul
,
Seltos
,
Telluride
,
Stinger
,
Sportage
 and more, to make up the brand's comprehensive vehicle lineup. But don't think the EV6 is a flash in the pan. There are more Kia electric cars on the way, so continue to watch this space for the latest Kia EV news! 
If you're looking to test the power of the EV6, don't forget to submit the form above and schedule your FREE EV6 test-drive at Napleton's Kia Dealer of Elmhurst. 
Kia EV6 On Sale at Napleton's Kia of Elmhurst
    There are so many highlights to tell you about Kia's new electric car technology. The new Kia EV6 is just the beginning for this new Kia lineup of hybrids, plug-in hybrids, and full-on electric cars. If you're looking to save money on rising gas prices, lower your carbon footprint, help the environment, or just drive the stylish new EV6, then Napleton's Kia of Elmhurst is the Kia dealership for you. Find out more about this exciting new EV by
contacting the Kia specialists
at Kia of Elmhurst and be sure to 
schedule your FREE EV6 test-drive.
   Tesla charging stations, like the Tesla Supercharger, may not be compatible with all the EVs and Hybrid vehicles available today. However, thanks to the versatile design of the Kia EV6, this new electric car is capable of charging at a Tesla Supercharger. Although, you may need an app and account to access the Tesla Supercharger, the EV6 can still charge at these stations. If you have any charging questions, be sure give us a call or submit the form above for more information.